[Blogger wasn't FTPing nicely this afternoon so this post was delayed. ...]
Carl Nolte writes, Flu outbreak diverts Mexico's cruises to S.F.
The Mariner of the Seas (>1K' long — displaces 137,276 tons) berthed early this morning at Pier 35.
<PALIN> We can see it from our bedroom window! </PALIN>
(yeah, yeah, yeah. I know that was SNL and not Palin.)
Just now, [well, sometime after lunch] the Carnival Splendor (952′) came into Pier 29 and I took a mess of photographs. Together the two ships have ~ 6800 passengers aboard.
I feel kind of :-((( for the passengers because the weather was grey and drippy today. Rainy a bit and then not a bit and then rainy again. MUCH chillier than the folks on the cruise (who had signed up for Puerto Vallarta and Acapulco, &c.) were dressed for. We thought, boy, those folks down by the wharf are probably upping the prices on their fleece jackets and umbrellas.
Seems we'll have more of the same (cruise ships, that is) for a while now. …
I imagine Butterfly restaurant down at Pier 33 is not the place to go for lunch. Not that we had any plans to do so. We have [had] a Cinco party down at Mercedes – Hair of the Dog Cantina starting at 6p.
[The Cinco was terrific. We walked down (con paraguas), stopping off at the bank to drop off a rent check. Got to the cantina a bit early. No prob. Met some new folks, old friends. Mariachis out front. Folks who weren't invited to the par-tay were sitting on the benches in the alley enjoying. Music (after the mariachis were done) by Carlos Godinez and his sidemen. We were seated RIGHT THERE. (Literally. We chatted across to them between songs.) Godinez played some Jobim, which made me happy.(Jobim? Cinco music? No, not really, but made me happy.) The spread was terrif. (Munchies followed by buffet. All you can drink vino blanco o rojo, margaritas o Dos Equis o whatever you wish.) I heartily endorse Mercedes – Hair of the Dog Cantina. Owner/staff were swell. We had a good time.]
(and then hoofed it home — sin paraguas … ~2mi total RT)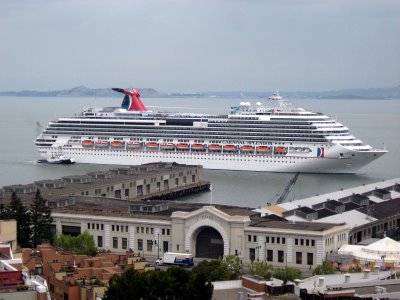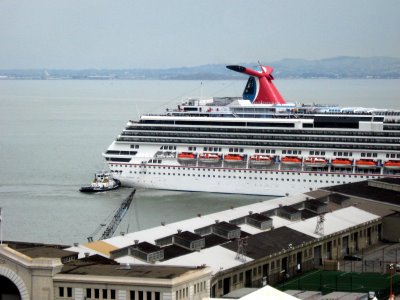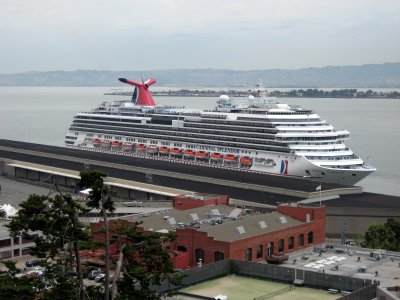 We got home to find the cruise ship nestled, all snug in its berth …
The Mariner of the Seas leaves in a half hour or so, but I think the Carnival ship won't leave until morning. …