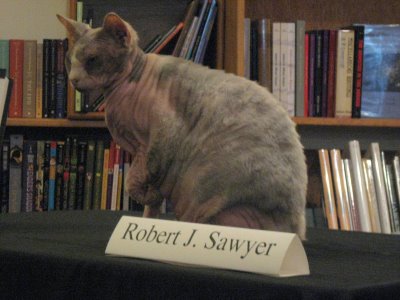 No, actually. That's Ripley, Borderlands Books' hairless cat.
Ripley sat in my lap purring and snoozing during Sawyer's talk and was reluctant to leave it when the presentation was over.
We hied off to Foreign Cinema afterwards for a late dinner, Sawyer having signed my copy of WAKE before the event kicked off.
Check out the book and the other seventeen books and zillions of short fiction items Sawyer has written.
The pilot for a FLASH FORWARD series is up for consideration in the next few days. Good luck to Sawyer on that.
After dinner at Foreign Cinema it was home again home again via the #14 Mission and the #30 Stockton, and a quarter mile walk up Telegraph Hill and home. The transit connections, though, were perfect. Maybe a four minute wait for the #14 and another four minute wait for the #30. Can't get much better than that. Thanks, Muni.